HEDDA LETTUCE'S RAUNCH DRESSING (Red Room)
Featuring Hedda Lettuce in a smorgasbord of live comedy, songs, and stand-up improvisations
HEDDA LETTUCE - "RAUNCH DRESSING"
THURSDAY, July 21 - 9:30 pm (ONE NIGHT ONLY!)

NYC drag icon, Hedda Lettuce, is proud to return to Act2PV on Tuesday and Thursday nights for her 7th spectacular season! Hedda has a worldwide following, having appeared on such TV shows as Sex And The City, Ugly Betty, Project Runway, Rupaul's Drag Race, To Wong Foo, Ray Donovan, Logo TV, HBO, ABC, CBS and MTV. Miss Lettuce travels the world with her green hair, crisp stand-up comedy, and fresh comedic songs! This season's brand-new show, Raunch Dressing, promises to be an evening like no other. Expect the unexpected from this brassy and classy trailblazing Drag Queen of Comedy.

TripAdvisor ★★★★★
A MUST SEE SHOW!!!
I went to see Hedda Lettuce on Thursday and let me just say I was blown away by her wit, stage presence and her improvisational skills. It was my first time seeing her and Hedda is a born entertainer who shimmies her way through a fast-paced evening of comedy and live singing. Hedda has a strong and unique singing voice and a very expressive face that lights up the room. She also told us to mention if we write a review, that she has a youthful appearance!! :)
Thanks Hedda for a unforgettable night.

TripAdvisor ★★★★★
"....Tossed Salad - this year's show was hilarious, current, and pretty much non-stop entertainment. I was HOWLING at times and left with a sore belly from laughing."

TripAdvisor ★★★★★
"The show was a total riot! I don't think any of us have laughed that hard in a long time. Great interaction with the crowd and just down-right funny!"

Youtube Video
YOU MUST LIKE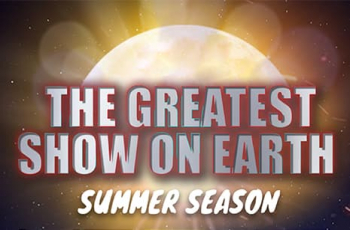 THE GREATEST SHOW ON EARTH! (FREE SHOW - Back by popular demand)
Next Event August 17, 2022