Nice show in heart of romantic zone
"Amazing show with great dancers, funny at times. Paid extra for VIP seats and the facial expressions on Paula's face when she dances was well worth the price of a ticket she is Awesome!!!"

Timothy Y  Brentwood, California


A Show Not To Be Missed
The Best of Broadway
"This tribute to Hollywood musicals was very impressive. The songs selected for each of the performers highlighted their individual strengths. The dance routines and related costumes made each song that more impressive"

N8PWCEast Lansing, Michigan


Incredible!!!
"To be honest I didn't know what to expect when me and my friend got tickets, but I was BLOWN AWAY. Definitely a must-see show if you are in the PV area. Hope to come back one day and see their next show"

Lloyd D


Hugely Entertaining!
"Don't miss this show. The performers are top notch, wonderfully talented. The costumes are very clever. We enjoyed every minute"

Elspeth C Kelowna


So much to see
"Every day they have so many shows for your taste. I went to one different show two days in a row. The talent that the being and the variety for everyone is amazing. I enjoyed every single one"

Destination799701


OMG - this has to be one of the best concerts I have seen ...
Us Two
"featured Daniel and Noemi with their 5 piece band who mastered some of the very difficult sounds of both these bands. This will appeal to anyone..."





Crooners – Marc Lopez
"Huge talent, awesome vocals, and charismatic personality. You will not be disappointed!"




Previous
Next
Opening Night June 23, 2023

Current Shows at Act2PV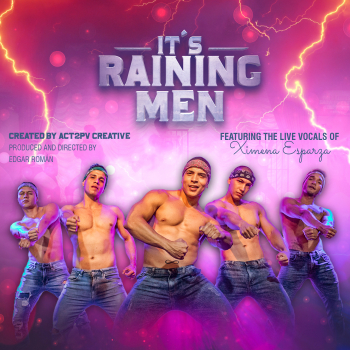 IT'S RAINING MEN!
Opening Night June 23, 2023
Showing at Marsha's Red Room Cabaret, Act2PV